UN COMMISSION
ON THE STATUS OF WOMEN (CSW)
UN CSW Meeting 2009 (53nd Session)
UN CSW meets at the UN in New York City March 2-13, 2009: CSW proceedings go to ECOSOC (UN Economic and Social Council), which meets for four weeks in July 2009. Discussion on a United Nations 5th World Conference on Women was tabled until this 2009 meeting. Imperative that support be mobilized for a 5th UN women's conference at the March CSW meetings and presented at ECOSOC for a 2012 conference (It takes 3 years).
Necessity for a UN 5th Women's World Conference: To implement principles and goals already stated in the Beijing Platform for Action, UN Security Council Resolution 1325, and the Millennium Development Goals. There is no need to create further documents. There is a huge need to mobilze the women of the world without which, there is a lack of motivation and resources needed to bring about gender balance or take care women, children and the planet. Unless it is a UN conference, women from many developing countries could not get visas and support.
The 4th UN World Conference on Women was held in Beijing 1995. 40,000 participated. The 5th would be the first one held in the 21st century in the era of the internet. It would raise consciousness, inspire and mobilize effective action through learning what has worked, and create collaborative networks that would endure after the conference. Also, a 21st Century conference could simultaneously reach anywhere and everywhere through the many ways individuals now can communicate as well as big-screen satellite provided communication.
---
UN CSW Meeting 2008 (52nd Session)
The 52nd session of the Commission on the Status of Women was held at the United Nations headquarters in New York from 25 February to 7 March 2008. The session was attended by the representatives of Member States of the United Nations and representatives of United Nations entities and of ECOSOC accredited non-governmental organizations (NGOs) from all regions of the world. As decided in the revision of its working methods and programme of work in 2006 (ECOSOC 2006/9), during the 52nd session the Commission considered a priority theme and an emerging issue. In addition, the Commission also reviewed implementation of the agreed conclusions (recommendations) on a theme considered at an earlier session.
Click here for a full summary of the 52nd Session
Click Here to download Draft Agreed Conclusions for Financing for Gender Equality
and the Empowerment of Women
Click here for information about the 5WWC Panel at the 08 CSW
Click here to download a list of the CSW Members
---
UN CSW Meeting 2007 (
51st Session

)

FEB. 26-MAR. 9, 2007 by Jean Shinoda Bolen

The call to make a difference brought 40 women representing 5WWC to the United Nations with the infectious idea of a 5th Women's World Conference. We wore large blue and white 5WWC buttons and gave them away as we met and talked to women from NGOs (Non-Governmental Organizations) who annually come when the UN Commission on the Status of Women (UN CSW) meets for two weeks (February 26-March 9, 2007). Unlike the response at previous meetings, where the idea was met with doubt and resistance, this year we found widespread support for a 5WWC that would be for grassroots women and NGOs.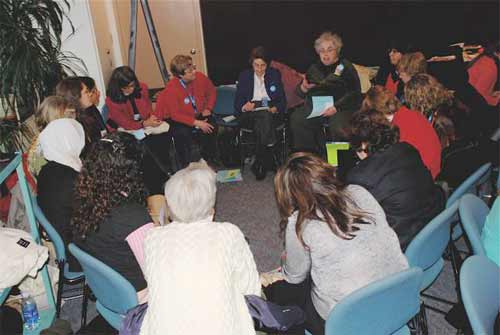 On the NGO Parallel Events calendar, the idea of a 5th WWC was furthered through a lecture on Urgent Message From Mother: Gather the Women, Save the World and a workshop on Circles of Healing, Empowerment and Action. In addition, we gave two 5WWC workshops on the Millionth Circle. Politically, we advanced the idea through two 5WWC caucuses: the first drafted a statement that was taken to other caucuses, the second created a petition for individuals to sign, signatures were collected and petitions were taken to be signed.
A grassroots focused 5WWC in 2012 is envisioned as a process that will involve many more millions of women before, during and after the conference, however huge this gathering may be, through the proliferation of circles of women and the use of the internet. At the time of the conference, parallel gatherings of women could be held everywhere and on every scale. The power to communicate through advanced technology could reach additional millions of women, girls, men and boys in schools, businesses, and all other institutions, while media at all levels would contribute to raising consciousness about problems and solutions.
Premise: A critical number of empowered women with maternal concern
for everything vulnerable, from the Girl Child which was the theme
of this year's UN CSW sessions to the planet and all life on it,
could end violence and bring peace into the world.
For complete information, click here to go to WomenWatch.
UN CSW Meeting 2006 (50th Session)
At the International Women's Day Event at St. Bart's during the 2006 UN-CSW Meetings, 5WWC flyers and petitions were distributed and the need for a 5WWC was urged by Jean Shinoda Bolen in her talk as one of many speakers: Noeleen Heyzer, Executive Director of UNIFEM, Margaret Mensah-Williams, Speaker and Vice-Chairperson, National Council of Nambia, Charlotte Bunch, Founder and Executive Director, Center for Women's Global Leadership, Rutgers University, Gloria Feldt, Former President, Planned Parenthood Federation of American, Rita Henley Jensen, Founder and Editor-in-Chief, Women's eNews, Vivian Stomberg, Founder and Executive Director, MADRE. Carol Coonrod, The Hunger Project and Catherine Roskam, Episcopal Bishop Suffragan introduced the event. For complete information, click here to go to WomenWatch.
UN CSW Meeting 2005 (49th Session)
The 2005 CSW meetings also held firm to not opening the Platform for Action document (against concerted efforts by the United States to open it up). The majority of time and effort spent at the 2005 CSW went to stop this action. The Anglican NGO delegation comprised of a large delegation from around the world was instrumental in stopping the US government. For more information go to www.episcopalchurch.org/uncsw. The 2005 CSW Meeting and the Beijing +10 Review provided a wealth of information related to the status of women. For the majority of countries the status had not improved. Violence against women, poverty, AIDS and sex trafficking are issues of grave concern. For complete information, click here to go to WomenWatch.
UN CSW Meeting 2004 (48th Session)
Support for the Idea of a 5th WWC occurred at the 2004 CSW meeting. During a NGO meeting of NGOs and governmental delegates held to discuss a 5th UN World Conference on Women, our delegation (5wwc) representing grassroots support from the US and Canada, helped to influence the need for such a gathering and the viability of grassroots support. Bringing forth grassroots women's support from individuals and organizations not accredited by the UN was greatly welcomed. Fear that the Beijing Platform for Action (see below) would be dismantled was laid to rest when the member states (governments) of the United Nations affirmed its commitment to not opening the Platform for Action document. For complete information, click here to go to WomenWatch.