Glowing Report from UN CSW NGO Panel on
"Envisioning a UN 5th Women's World Conference"
Feb. 26, 2008 • 5-6:30 pm • Church Center - 2nd Floor
---
Panelists

• Gloria Steinem, Co-founder of Ms. Magazine,
• Elahe Amani, Chair Women's Intercultural Network (WIN),
• Jean Shinoda Bolen, M.D., Author and Jungian analyst,
• Dr. Patricia Licuanan, President of Miriam College in the Philippines, chair of preparatory meetings for the l995 Beijing World Conference and of the Main Committee of Beijing, and
---
Report by Jean Shinoda Bolen:
There was standing room only— the energy was electric with at least 150, maybe more in the packed room — the panel had the magic of a pot-luck in where what was brought to the table complemented and resulted in a a range of emotional, informational, and spiritual food for thought and fuel for action.
A third of the room had been to Beijing, the 5WWC buttons were offered to anyone who would wear one and all of them were scooped up along with the flyers with a 5WWC petition insert, the Preface to Urgent Message from Mother and steps to take to further a 5WWC at the CSW and ECOSOC.

I led off with the envisioning, then Nancy Gruver publisher of New Moon, spoke about bringing 13 girls to Beijing, the seed planted when two twelve year olds interviewed Angela Davis in Minneapolis and heard about the preceding 3rd Nairobi conference.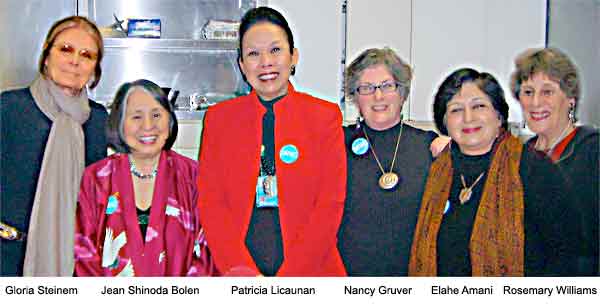 Elahe Amani — WIN president, originally from Iran—with a slew of impressive credits, added her story and participation in Beijing. Patricia Licuanan from the Philippines had been the chair of the UN CSW when Beijing was held and so was a key person in the year leading up to Beijing as well as in Beijing. She spoke personally about the experience as well as providing a broad base of information including cautionary concerns in her talk which also was a heartfelt support for having a 5th.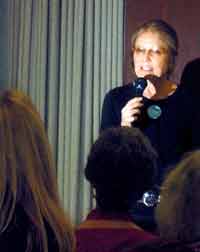 Gloria Steinem was the last panelist—her voice, words and presence did what she does—she empowers her audiences, something I have have seen her do many times; for so many who were there—she is a hero who as an icon of the women's movement embodies what women can do together.
Then Rosemary Williams read the message on a card that she had given the members of the panel:
"In my dream, the angel shrugged & said, If we fail this time, it will be a failure of imagination and then she placed the world gently in the palm of my hand."
After which, in a matter of minutes, chairs were rearranged into circles of three to five—knees to knees, which worked as circles do for the next half-hour. Everyone got into a large and tight circle at the end which ringed the room. I brought up how wild geese fly 71% further when flying together than one could do flying alone, spoke about the lead goose rotating back so another goose could take the point position, and ended with hands held and Gemma's soaring three phrase song: "We rise! We rise! We rise!" and at the end, all hands in the air.
I left for home the next morning. I believe that some were inspired and empowered and trust that 5WWC was taken up by some as their assignment—I had brought up my three criteria which motivates the formation of most NGOs as would furthering 5WWC:
• Is it meaningful?
• Will it be fun (because of who else will be doing it)?
• And Is it motivated by love?
The circle held on the Sunday preceding the panel at Patricia Smith Melton's lovely apartment lay an energy-foundation for this. The magic of circle resulted in depth, humor, connections. Nine Millionth Circle conveners. Four from the Anglican Women's Empowerment (AWE-one of the co-sponsoring organizations), panelists, two from Columbus Ohio's Standing women, and five newbies to CSW and this – one from Canada, three from Minnesota, and Elahe's daughter.
Sensing and believing as I do that the invisible is the field from which the visible emerges, I felt the support of the the NGO-ECOSOC sponsors, who lent both the name of their organization and their reputation and the energy of their morphic field:
Marilyn Fowler: Women's Intercultural Network (WIN)
Avon Mattison & Joan Kenley: Pathways to Peace
Elly Pradervand: Women's World Summit Foundation (WWSF)
Anglican Women's Empowerment (AWE):
(AWE was largest delegation to CSW --many from Africa)

I was also aware that conveners of the Millionth Circle since 2002 have been carrying the idea of 5WWC to the CSW meetings.
The image that has come to my mind:
we have persisted as if trying to light a fire with sparks from a flint,
and that this time, a flame resulted, the tinder caught and
will need to be fed by more and more contributions
before it is transformed into 5WWC.
A UN 5WWC is a process and a symbol
as well as a Women's World Conference—
it would accelerate reaching a critical mass or tipping point.
Maybe humanity has only twenty more years
to reverse the destructive course that
patriarchy has set us on and maybe
Gather the Women, Save the World
will do just that.